How a Pay-for-Play HBCU Basketball Could Disrupt The NCAA
The multibillion-dollar college sports industry exploits African-American athletes and has left historically black schools behind. Some people think there's a better way.
By Patrick Hruby | VICE Sports | June 2017
W
hat if I told you there was a way to pay men's college basketball players a fairer portion of the hundreds of millions of dollars they generate, boost the flagging fortunes of the nation's historically black colleges and universities (HBCUs),
and
stick it to the sanctimonious, self-serving quasi-monopolists at the NCAA?
If all of that sounds too good to be true, then you haven't yet heard from Andy Schwarz. A San Francisco–based antitrust economist,
longtime critic of college sports amateurism
, and—full disclosure—occasional
contributor to VICE Sports
, Schwarz has a plan to make it happen.
It's a business plan
, in fact, and while it's still in its early stages, it works, in a nutshell, like this:
Step 1: Form an HBCU-exclusive basketball league.
Step 2: Tell the NCAA to pound sand, and pay the nation's very best high school and college basketball players to be part of it.
Step 3: Profit. Oh, and also change the face of big-time campus athletics forever.
"One of the ways to bust up a monopoly is through disruption," Schwarz says. "That's the idea here."
The way Schwarz and his HBCU league co-founders—Ohio–based sports and entertainment attorney Richard Volante and Washington, D.C.–based author and historian Bijan Bayne—see it, the NCAA is a bit like a traditional taxi company, while their concept is akin to Uber or Lyft. The league would consist of at least 16 members drawn from the four current NCAA Division I and II HBCU conferences, institutions such as Howard University and Florida A&M; its athletes would be full-time students.
They also would be paid to play basketball, between $50,000 and $100,000 a year. Moreover, they would be allowed to endorse products, sell autographs, sign with agents, accept gifts from boosters, declare for the NBA draft, and even be drafted by NBA teams without losing their eligibility.
NCAA amateurism rules prohibit all of the above, generally limiting athlete compensation for playing sports to the value of an athletic scholarship: room, board, tuition, and in some cases a small cost-of-attendance stipend. Recently, University of Central Florida kicker Donald De La Haye said that his popular YouTube videos, which depict his daily life as a college athlete and have earned him income,
may violate those rules and cost him his eligibility
.
In the HBCU league, Schwarz says, athletes like De La Haye would be encouraged to market themselves.
"There's no amateurism," he says. "If we're in a high school recruit's living room, our pitch is that we want to give you a contract for $75,000, with workers' comp, health insurance, and a 401(k). There are opportunities for ancillary revenue on top of that. We offer great campuses and alumni networks. We invite NBA teams to come, and to draft you while you're still in school. If and when you make that jump, we are thrilled for you.
"We walk through that menu, and then we ask, 'If you're thinking of going to a school outside of our league, ask them if those same possibilities are there.'"
---
T
he idea was born out of Schwarz, Volante, and Bayne's frustration with the multibillion-dollar college sports industry, in which NCAA member schools agree not to pay athletes instead of competing and bidding for their services in a free market the way every other industry works, and the way campus athletics work if you're a coach or athletic director.
It also stems from the failure of recent legal challenges to amateurism. A class-action lawsuit brought against the NCAA by former University of California, Los Angeles basketball star Ed O'Bannon over the use of athletes' names, images, and likenesses ended with federal judges finding that the association violates antitrust law, but also ruling that the NCAA can continue to prohibit player pay.
Similarly, when a National Labor Relations Board regional director found that Northwestern University football players qualified as school employees under federal labor law and had the right to unionize, the NLRB's national office declined to exercise jurisdiction over the university's appeal of the decision, effectively leaving the unionization effort in limbo.
The two rulings left Schwarz, who consulted for the plaintiffs on the O'Bannon case, "depressed." But he also perceived an economic opportunity. Cartels like the NCAA form because all members agree they can make more money by colluding with one another than by competing. They break up when some members decide they're getting the short end of the stick and would be better off going head-to-head with their former partners.
"If you want to disrupt a cartel," Schwarz says, "you need to find someone inside it who is not winning."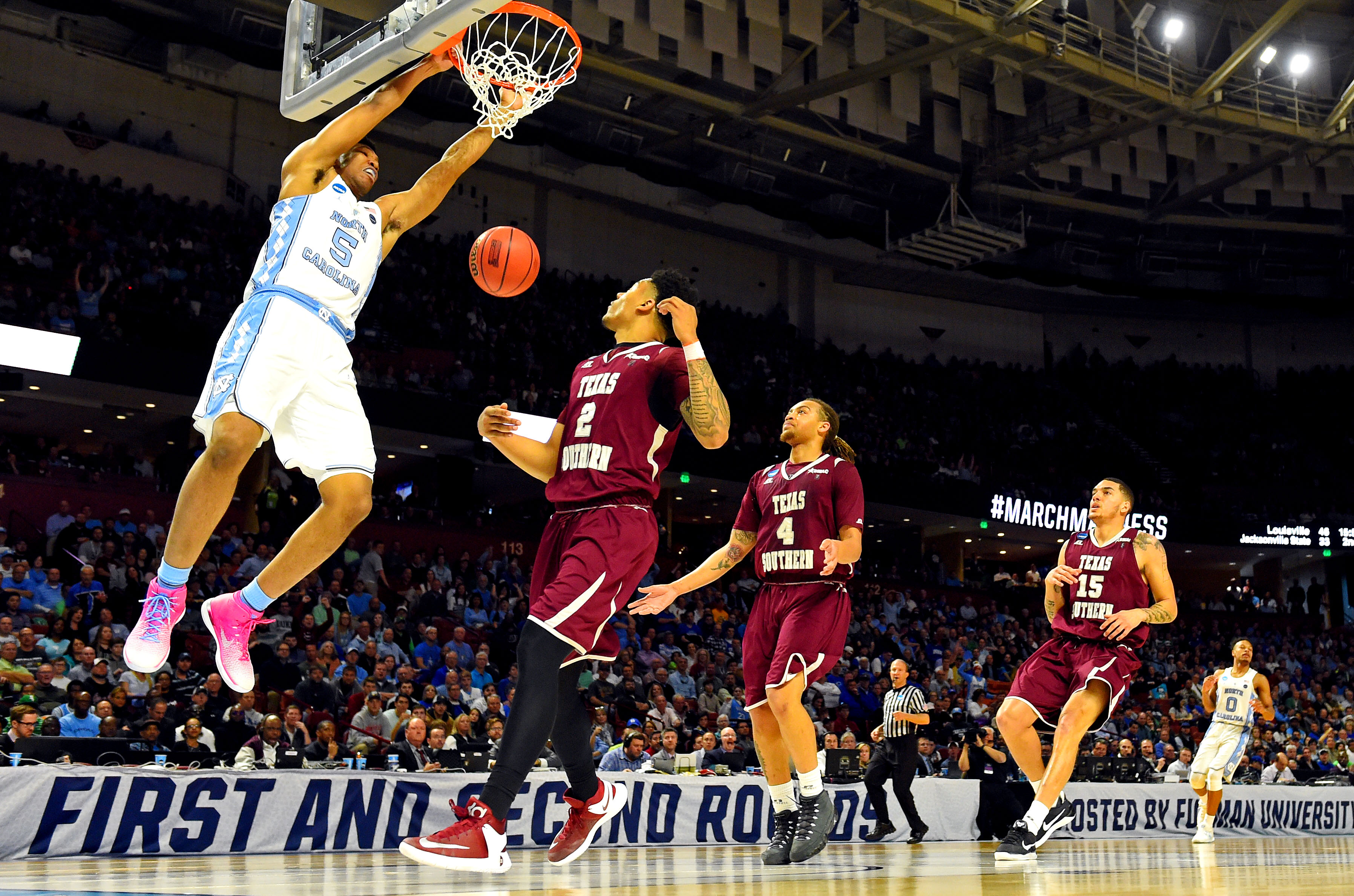 Do HBCUs really benefit by being part of the NCAA cartel? Photo by Bob Donnan-USA TODAY Sports
Enter HBCUs. Once upon a time, schools like Grambling State were sports powerhouses. Widespread racial segregation meant that many of the best African-American athletes, like basketball's Earl "The Pearl" Monroe, starred for black institutions. In the 1970s, Grambling's football team played on national television every week, was viewed by fans as the "black Notre Dame," and had more former players in the NFL than any other school.
"In early September,
Wide World of Sports
would air a game called the Whitney Young Classic between Grambling and Morgan State [another HBCU] at Yankee Stadium," says J. Kenyatta Cavil, a professor at Texas Southern University and an expert on HBCU athletics. "They would air it with the same gravity as a University of Southern California–Notre Dame game."
Desegregation has since drained the HBCU athletic talent pool. Over time, schools like Morgan State and Florida A&M have
fallen further and further behind bigger and richer primarily white institutions
(PWIs), and in particular the members of the NCAA's Power Five conferences.
Four years ago, Grambling State's football team
went on strike
to protest dangerous, dilapidated athletic facilities; in 2010, Mississippi Valley State's football stadium was
deemed so unsafe it was temporarily closed
. On the field, the disparities between HBCUs and other Division I programs can best be seen during "guarantee games"—that is, when HBCU teams play road games against major programs and get throttled in exchange for cash.
In 2013,
Florida A&M lost at Ohio State 76-0
but collected $900,000, over half of the school's $1.6 million football budget that season. Basketball isn't much different:
Mississippi Valley State went on a 14-game, 13-state road trip
to start its 2015-16 season, losing all 14 games while earning $600,000.
"The HBCUs don't have a choice," says Fritz Polite, assistant dean of student affairs at Shenandoah University and a sports management expert. "They have to find some type of alternative method to raise money. The model the NCAA has in place doesn't meet their needs at all. The rich are getting richer."
While major college sports are an estimated $10 billion-a-year industry, HBCUs see little of that money.
An ESPN analysis
last year found that Power Five schools made $6 billion in 2014-15, while the Group of Five mid-major conferences accounted for another $2 billion. The total combined revenues for the Mid-Eastern and Southwestern Athletic Conferences that year,
according to a USA Today database
, were roughly $289 million—a competitive amount when compared to other small-time Division I football conferences, but a pittance compared to the big-time bowl-eligible ones.
The lack of funding makes it harder for HBCU athletic programs to keep up in the classroom, too. In an attempt to measure educational quality, the NCAA uses a metric called Academic Progress Rate (APR), which is rooted in athletes' course completion and grade point average. Two seasons ago, all 23 teams punished with postseason ineligibility by the NCAA due to low APR scores were from HBCUs.
A 2015 Washington Post story
explored how the NCAA system leaves HBCUs stuck between what Polite calls "a rock and a hard place." On one hand, the schools have a historical mission to educate the poorest and least academically prepared students, including athletes; on the other, they have scant resources to do so. As the
Post
put it:
HBCUs typically can't afford for their athletes to attend summer classes. They have far fewer academic advisers to provide oversight. Unlike power conference schools, HBCUs can't afford enough NCAA compliance officers to effectively navigate waivers for exemptions, or offer guaranteed scholarships that allow athletes who leave school early to return to get their degrees and boost a slumping score.
Howard has two full-time academic advisers for approximately 350 athletes. At Morgan State, the only academic adviser listed on the athletic department's online staff directory is also an assistant cheerleading coach. But schools in the power five conferences often have an academic counselor devoted to football and men's basketball and one for every three to four of the institution's other sports.
The NCAA's Accelerating Academic Success Program offers "resource-limited" schools grants of
up to $900,000 over three-year periods to fund academic support for athletes
. But Polite says that when he and other members of the academic and athletic community wrote a joint letter to the association in 2012 urging changes to the APR process and greater redistribution of money away from Power Five schools and toward HBCUs and other have-nots, the NCAA
"didn't take any of our recommendations and they never invited us back."
"If you sat the [HBCU] presidents down and asked them truthfully, a lot of them would say the system is not benefiting them," Cavil says. "But I think they don't see any better options."
---
S
chwarz and his partners believe they can provide one. A basketball league featuring the nation's top collegiate talent—the future NBA players who currently attend schools like Duke University and the University of Kentucky—could provide a much-needed shot in the arm to HBCU athletics as a whole. It also could benefit member schools in general through what some economists have called "
the Flutie Effect
," in which high-profile athletic success spurs a virtuous, school-lifting cycle of better branding, improved alumni giving, increased and more selective enrollment, and more overall excitement.
"There's nothing that George Mason could have done in American society that is equivalent to the buzz it got from its run [to the Final Four in 2006]," says Bayne, the author and league co-founder. "No website, no brochure, no famous alum. I've worked at places where people filling out their NCAA tournament brackets had Coppin State or Hampton as a No. 15 or 16 seed and didn't know what those schools were. So the hope is that in the long run, the entire student body [of the HBCUs] will benefit in indirect ways."
Schwarz says the proposed league also would dovetail with the HBCU mission to serve and support the African-American community. Currently, amateurism in major college sports functions as
a de facto racial wealth transfer, redistributing what I estimate to be $2.2 billion annually
from black football and men's basketball players to predominantly white administrators, coaches, and non-revenue sport athletes. Permitting athlete pay would begin to balance the ledger.
"And if this league takes off, this is an opportunity for people to be general managers, to work at all different levels of a sports enterprise," Schwarz says. "So it's not just black coaches being involved, it's a lot of staffing in a league that's based within the HBCU community and doesn't have the impediments we sometimes see to African-Americans getting those jobs.
"It's not that you'll have to be black to work in the league, it's just that you won't have to be white."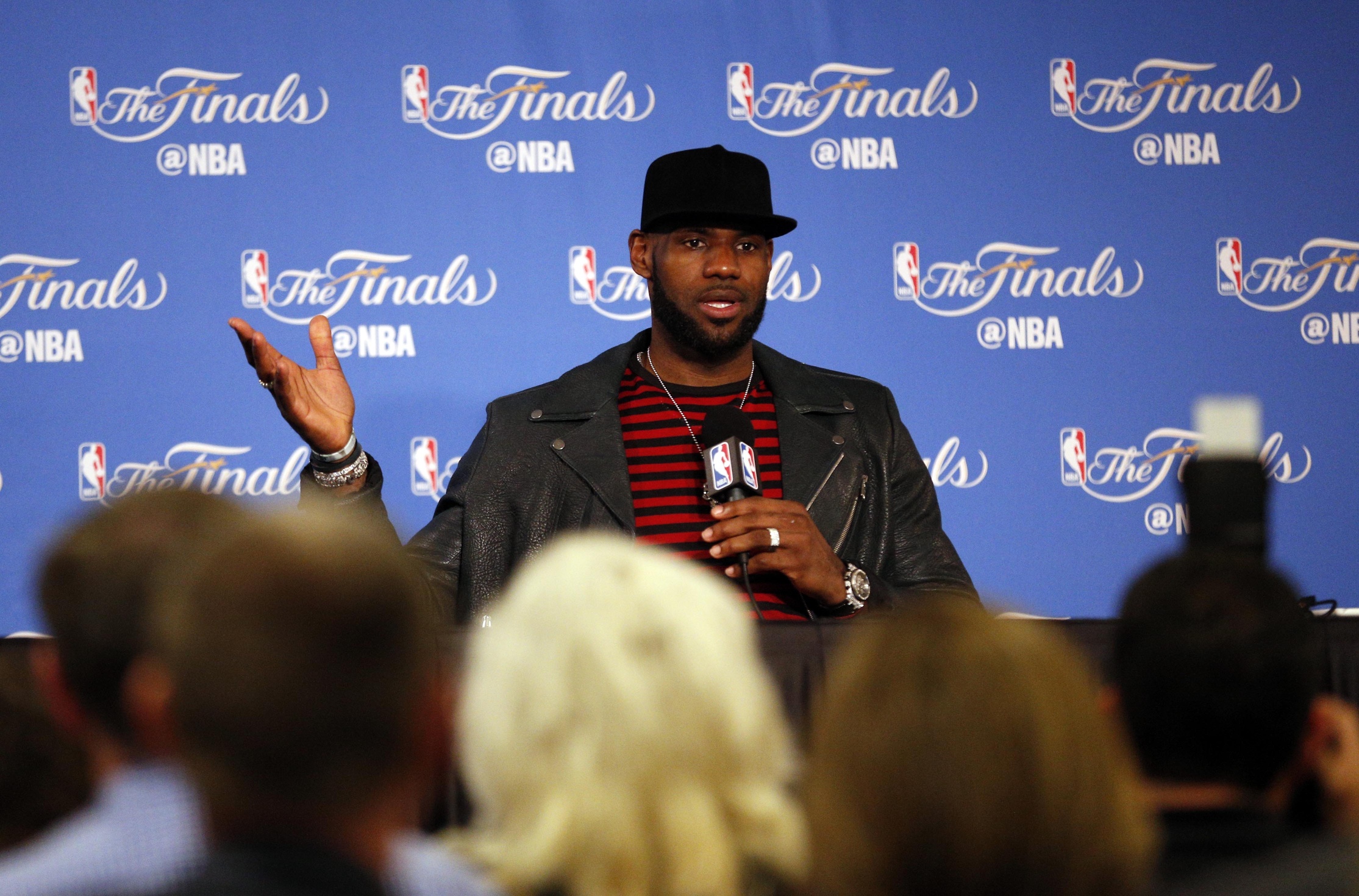 The proposed HBCU league is looking for socially conscious investors. Photo by Cary Edmondson-USA TODAY Sports
It won't be cheap. League co-founder and attorney Volante estimates a total start-up cost of between $30 million and $50 million—roughly $10 to $15 million for player salaries, a similar amount to renovate facilities, and maybe half that amount to hire "high-end coaches who can recruit high-end talent."
To fund that, Schwarz and Volante say, the league will require sponsors as well as private investors. For the former, Schwarz envisions athletic shoe and apparel companies, which already spend millions outfitting athletic departments in order to put their logos on college athletes.
"Imagine it's Adidas," he says. "They probably have their eyes on someone who is going to be a one-and-done NCAA player two years from now. They might say to him, 'If you go to Kentucky, we can't talk to you commercially until they say you've left for the NBA. But if you go to Prairie View A&M in our league, we can pay you tomorrow to be in our stuff.'"
Their ideal investor, meanwhile, would have deep pockets, a love of sports, and a desire to effect larger social change. Maybe someone like retired NBA star and television commentator Charles Barkley,
who last year donated $2 million to a pair of HBCUs
. Or perhaps current NBA star LeBron James, who
recently gave $2.5 million
to the National Museum of African-American History and Culture. "We're looking for people who have an interest in bettering the lives of minorities and others who haven't had a voice in college athletes," Volante says.
The league also will have to land a broadcast deal. That could mean a traditional cable network like ESPN or FOX Sports, or a digital programming provider such as Netflix or Twitter.
"We don't want to reinvent the wheel," Volante says. "Historically, most leagues' success has been driven by their broadcast deals. Day one, we're not competing with the NCAA's billion-dollar broadcast agreement. Major League Soccer and mixed martial arts started off in the $5-to-$10 million range. If we can recruit talent, we think it's possible to get a higher value than that."
Beyond money, Schwarz believes, the biggest obstacle to making the league a reality may be getting buy-in from the schools themselves. Ongoing state budget cuts to higher education have hit traditionally underfunded public HBCUs particularly hard, and those same institutions generally don't have much clout in state legislatures when compared to larger PWIs.
Suppose North Carolina A&T joins a pay-for-play HBCU basketball league. And suppose the school begins beating out the University of North Carolina and North Carolina State for top-tier recruits. How will powerful, politically connected Tar Heels and Wolfpack alumni and fans react?
"It would be difficult for a president at a public [HBCU] to think about trying this out without considering that they might have some backlash," says Cavil. "The larger state schools enjoy a great deal of benefit from being aligned with the status quo. Millions and millions of dollars. They have a lot of sway in terms of NCAA legislation, and state and federal legislation to support what they think is important.
"So now you're talking about smaller entities which presidents often put in place by legislatures or governors going back up against the same legislative machine? That's going out on a limb, and going up against vested interests. People won't look at this in terms of equality. They will look at it in terms of what they're losing."
---
F
or now, the league is just a concept,
a 22-page outline that anyone can read online
. Cash, schools, and athletes are the essential elements, but it also needs lawyers, marketers, operations staff, an entire professional infrastructure. More of everything.
Schwarz and company would like to recruit a team of HBCU business school students to build out the plan as part of a master's degree project; they'd love to get NBA Players Association involved, as well as current and retired professional players. They're currently putting out feelers with HBCU decision-makers and attempting to meet with a school president. In December, they plan to make the rounds at the Celebration Bowl in Atlanta, which pits the MEAC and SWAC champions against each other and is essentially black college football's national championship.
"Everybody is there, and our goal is to find people to be in charge of the project and get it over the finish line," Schwarz says. "There are people who can make this happen way better than I can. It's like how Ray Kroc stole the McDonald's idea. We are actively seeking a Ray Kroc."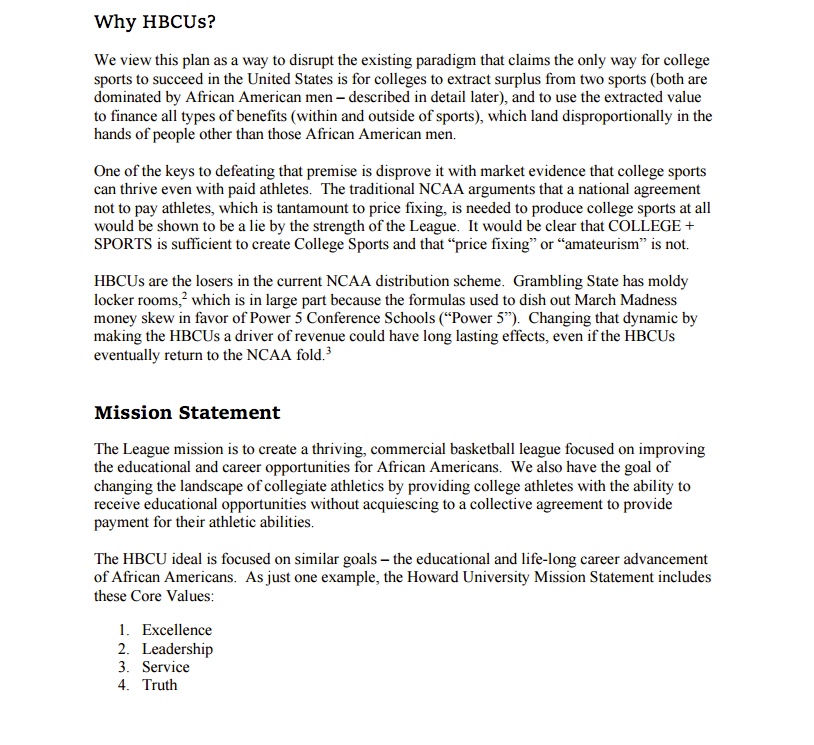 A page from the HBCU league business plan. Courtesy Andy Schwarz
Schwarz expects wariness, at least initially. "I look like a white guy from California who wants to use black people to make a point," he says with a laugh. "I would be skeptical of me, too." But he strongly believes the league can work as an actual business, and not just as a thought exercise. Football requires large rosters and expensive infrastructure. Basketball has a lower cost of entry.
"You only need, say, two or three high-end talents per school to make a league competitive and watchable, keep fans around, and build something," Volante says. The market for high-quality college basketball is already proven, and HBCUs would hardly be starting from scratch in terms of branding and fan interest—Bayne points to the annual Central Intercollegiate Athletic Association basketball tournament in Charlotte, which had
an estimated economic impact of $55 million in 2015
, as a indication of what's possible. "That awareness can easily be translated to television and other viewing platforms," he says.
Most important, Schwarz says, a pay-for-play HBCU league will have a unique advantage over the NCAA, one that previous upstart sports operations such as the United States Football League have lacked. "The easiest competitive response by a normal incumbent would be to bury us in a salary war," he says. "As a high-schooler, I was a season-ticket holder for the [USFL's] Boston Breakers. That league got Steve Young, Herschel Walker, Doug Flutie, and then they went out of business. So long as the NCAA refuses to outbid us for talent, it will have both hands tied behind its back."
When Schwarz and company use the term "disruption," this is what they really mean: transforming the association's strength into a weakness, and turning the exploitative Hobson's choice currently presented to college athletes—amateurism or nothing—into a real one. "You don't just have to be a high school All-American," Polite says. "Imagine you're playing at Georgetown. There's Howard right across the city [in Washington, D.C.], and those guys are getting paid.
"What would keep you where you are? You'd be like, 'The hell with this. I'm out. I'm going over there.' You could have endorsement deals, have Cadillac giving you a car, you ride around and hand out business cards for the local dealer. Every car sold, you get a cut. I'm telling you, at that point, it's over."
Of course, there's one way NCAA schools could compete: by allowing competition, and permitting players to paid. Doing so, Volante concedes, likely would put an HBCU league out of business. But that also would be a win. "If you look at NCAA basketball and football, the majority of scholarship athletes in those sports are African-American," he says. "Right now you largely have old, white rich guys making money hand over fist off of them. If all those players start getting paid, our ultimate goal will be achieved."