Football's Brain Injury Crisis Isn't Just for Star Players
A former NFL linebacker's struggle with post-concussion syndrome illustrates how the sport's fringe performers also are at risk
By Patrick Hruby | VICE Sports | July 2017
K
a'Lial Glaud has a headache. Every second of every day, he says. Ever since suffering his first and only diagnosed concussion in the National Football League nearly two years ago.
A 26-year-old former linebacker who spent most of three NFL seasons with the Tampa Bay Buccaneers, Glaud has been diagnosed with post-concussion syndrome, a disorder in which symptoms such as dizziness, light sensitivity, and intense headaches persist long after someone experiences an initial brain injury.
Medications haven't brought Glaud relief. Nor has therapy. He isn't well enough to work, and he can't go back to Rutgers University to finish his undergraduate degree—not when reading for more than half an hour leaves his eyes exhausted and head throbbing.
Recently, Glaud says, it took all he had just to walk on a Stairmaster and then cut the grass at his home in Asbury Park, New Jersey.
"I was down for four days [afterward]," he says. "I told a doctor, 'It's like I can feel my brain.' They said that's impossible. But it feels like someone is inside my head and has their hands around my brain, and they're squeezing it."
It's been more than a decade since doctors discovered the neurodegenerative disease chronic traumatic encephalopathy (CTE) in deceased Pittsburgh Steelers center Mike Webster, a revelation that helped make brain trauma in football an ongoing national story. Much of the subsequent fan and media focus has been on star players, like
New England Patriots quarterback Tom Brady allegedly hiding a concussion last season
, and worst-case medical outcomes, like
Hall of Fame linebacker Junior Seau
being posthumously diagnosed with CTE after committing suicide in 2012.
However, fringe performers such as Glaud—training camp invitees, practice squad members, players at the bottom of depth charts—are just as vulnerable as the sport's marquee names, maybe even more so. Fighting for jobs and paychecks in the league, they arguably have greater incentive to put their brains at risk and fewer resources to cope with any lasting damage.
Even when those ailments are less severe than CTE, they still can be debilitating. Glaud was concussed in September of 2015, and since then his life has been a fog of frustration and depression.
"Everyone you hear about, they played for ten, 15 years," Glaud says. "I had three, one of those on the practice squad and another on injured reserve. I didn't play that daggone long. And it has affected me. I think about it every day."
---
G
laud doesn't remember the hit. He was playing for the Dallas Cowboys in the team's final preseason game, trying to earn a roster spot.
One moment, Glaud was calling plays and setting defensive fronts; the next, he was on the sideline, telling teammate Sean Lee that nothing was wrong—even though Glaud couldn't recall those same plays and fronts when one of his coaches was going through game video on a tablet computer.
Are you sure you're OK?
I'm fine.
I think I'll have a doctor look at you.
"I asked Shawn not to," Glaud says. "Then I went back out on special teams. When I came off again, he was there with trainers to evaluate me."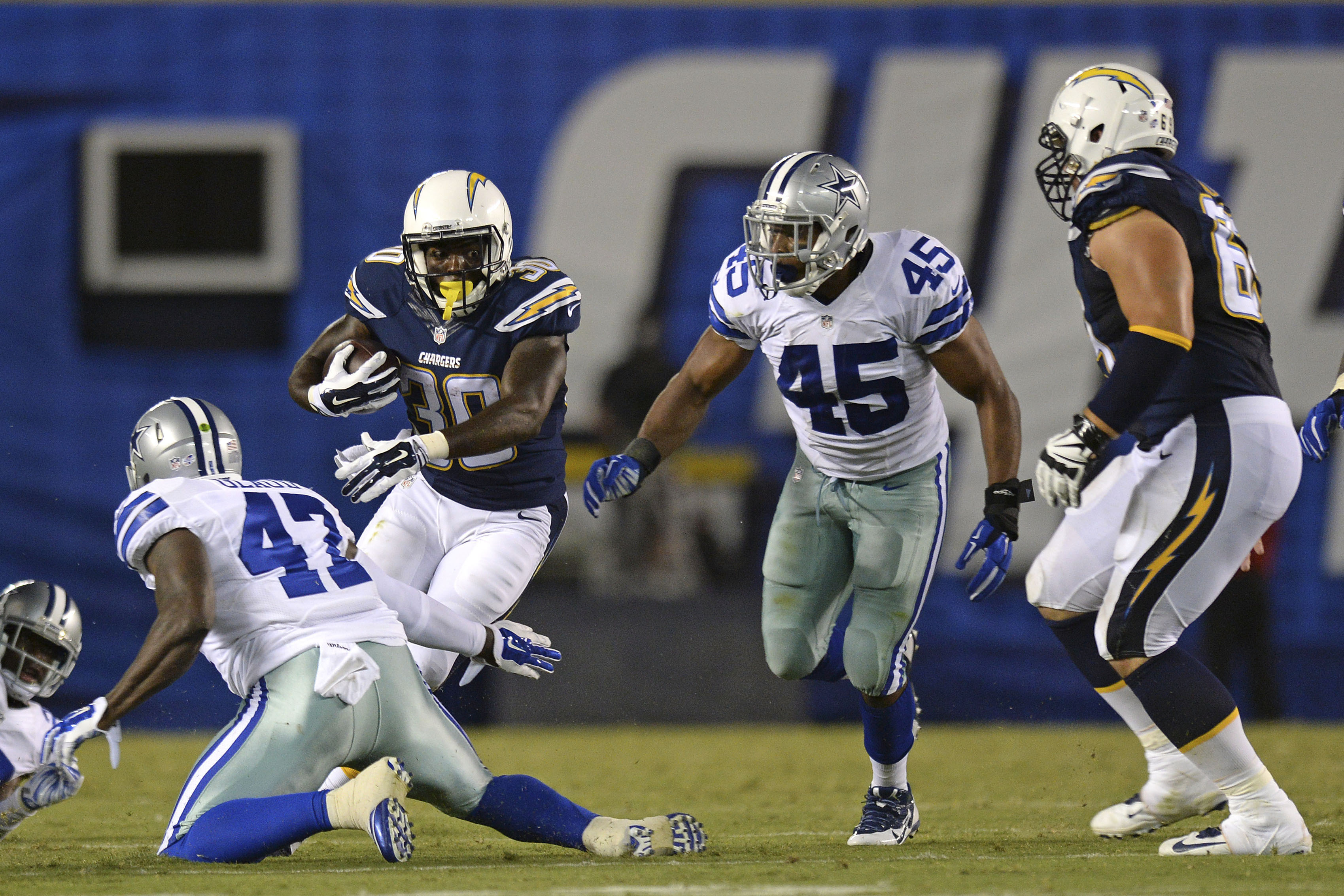 Ka'Lial Glaud (No. 47) in a 2015 preseason game with the Dallas Cowboys. Photo by Jake Roth-USA TODAY Sports
Team doctors took Glaud back to the Cowboys' locker room and told him remove his uniform. He figured that he would be fine. He suffered two diagnosed concussions at Rutgers, he says, and both times sat out practice for about a week before returning to the field. The injuries didn't stop him from starting all 13 games his senior year, or from appearing in seven games for Tampa Bay as an undrafted rookie in 2013.
This time was different. Back at the team hotel, Glaud was nauseous. He threw up when he tried to eat. Riding elevators made him dizzy, and he didn't want to leave his darkened room. Diagnosed with post-concussion syndrome, he spent the season on injured reserve, unable to clear the Cowboys' return-to-play protocols.
The team sent Glaud to a neurocognitive therapy center. There, he performed rehab tasks like staring at a target while shaking his head. His scores improved over time, he says, but his headaches didn't. If anything, activity made them worse. Near the end of the 2015 season, the Cowboys sent him home to New Jersey.
Glaud hasn't played football since. Still sensitive to light, he says he wears sunglasses "just about all the time." He can walk on a treadmill, but he can't run or lift weights without getting dizzy. He has to read things repeatedly to make sense of them, and has trouble sleeping—drifting off in the middle of the night, waking up before dawn, unable to nap in between.
Then there's Glaud's perma-headache. So many things can make it worse, from sudden noises to trips to the grocery store. "If I go out to dinner with a bunch of friends, I'll have headaches and feel floaty," he says. "And I will pay for it later that night or the next day."
Glaud is close to his family: his parents Marlon and Wanda, who served in the United States Navy; his brothers Anthony and Sharif, who both played college football; his wife, Kassandra Laine, a supervisor at a health insurance company, and their three-year-old son, Kingston. He wills himself to be upbeat for them, less irritable and worn down. "I try to put away my pain," Glaud says, "and act like everything is normal and OK with me."
It isn't. On the Fourth of July, Glaud, Kassandra, and Kingston drove to the beach to watch a fireworks show. Glaud never left the car. "We even parked kind of far away from everyone and everything," Kassandra says. "But it was still loud, and there were a lot of people. Afterward, he was so nauseous. He felt like he had to throw up the entire night.
"You want to be able to enjoy life as it was. And Ka'Lial loves fireworks. So he made the sacrifice to go. But it's so hard for him to recover from doing something so small."
Kingston is a typical toddler—when he's happy, he's rambunctious; when he's grumpy, he's a handful. Either way, Glaud says, it doesn't take much to feel like those fingers are digging into his brain.
"He doesn't know what he's doing, yelling or screaming or playing with a toy, and then he starts crying," Glaud says. "And it can be hard for me not to snap or yell."
When that happens, Glaud has to excuse himself. Nothing hurts more.
"I'll go sit in my car, or sit in a room by myself," he says. "It's like, 'dang, what are you doing? That's a doggone baby.'"
---
G
laud sees a visual therapist. A functional neurologist. A chiropractor. A cognitive therapist who doubles as an emotional counselor. He practices memorization with flash cards and numbers, works on his balance and eye movement, gets coaching to improve his ability to think and concentrate. He has cycled through four different migraine and mood medications. So far, none of it has helped. He's looking into Botox injections, which have been approved by the FDA to treat chronic headaches, and a numbing agent that would be injected into his upper neck.
"I've put over 50,000 miles on my car in less than a year, and I don't go anywhere else but to doctor's appointments," he says.
Glaud still loves football. If doctors cleared him to play, he'd be tempted to put on a helmet. He has a number of friends in the NFL, and believes that the league can do more to prevent them from getting seriously hurt—and to help people like him once they are.
Start with concussion education. Athletes, Glaud says, need more of it. At Rutgers and with Dallas, it was teammates who noticed he was hurt. Glaud had no idea.
"Growing up, a concussion to me was like when somebody gets knocked out, or they get up and they look like they're drunk," he says. "Even in the NFL, nobody ever explained to me what a concussion actually was. I got most of my education from what is happening to me right now, and going to all these doctors.
"If you look at the symptoms they tell you—seeing stars, being a little dizzy—there's probably 40 concussions among all the players in a football game. When I talk to my doctors now, they're like, 'Maybe you only got diagnosed with two concussions in college and one in the NFL, but you had a lot more.' Maybe I had way more than I can even think of. It's like,
dang.
"
In May, retired NFL wide receiver Calvin Johnson
told the Detroit Free Press that he hid his concussions while playing for the Detroit Lions
because the team "needed him out there on the field." That attitude can be dangerous. Medical research indicates that suffering multiple concussions and suffering a second concussion while the symptoms of a previous concussion have not yet resolved both can increase the risk of short- and long-term neurological harm.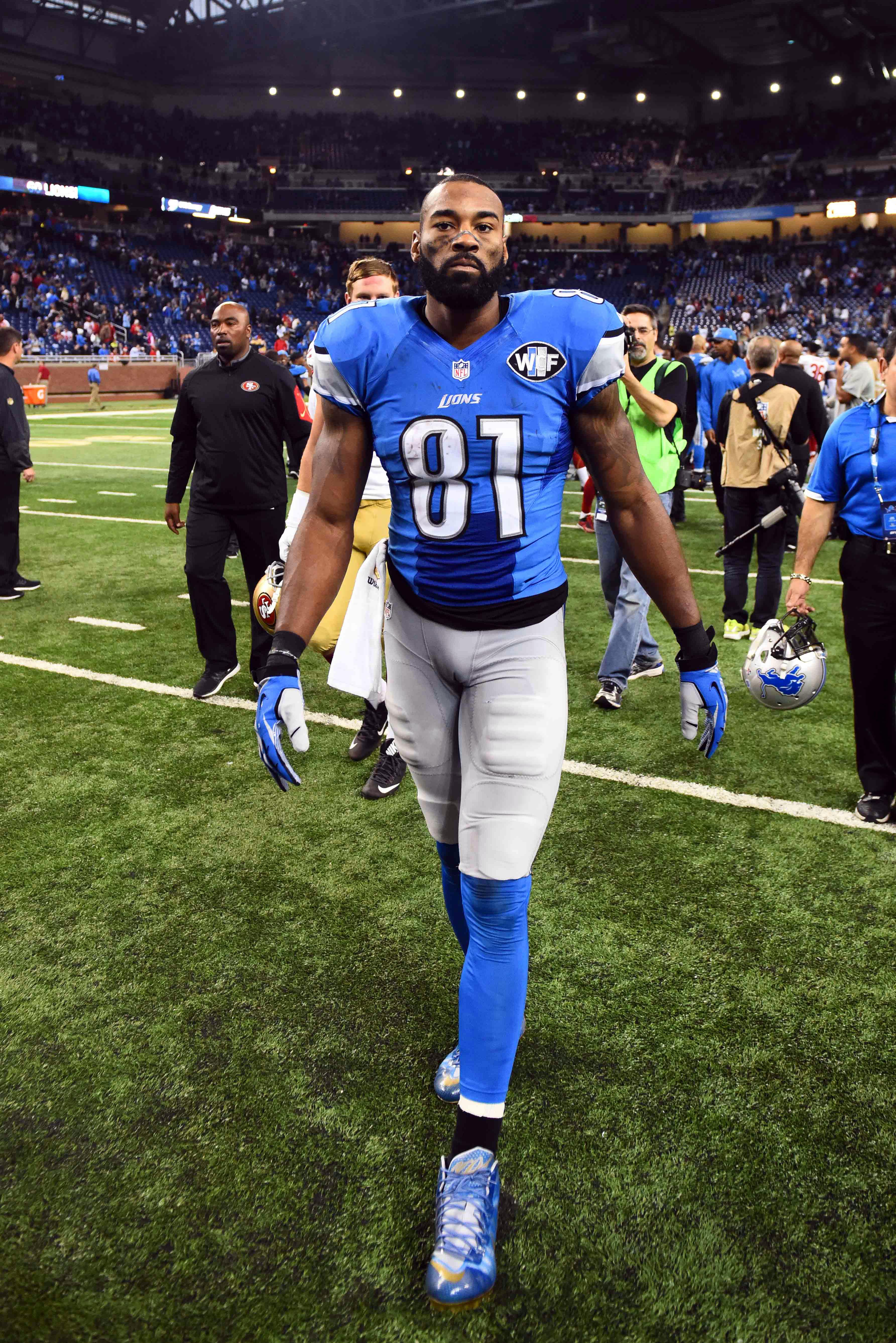 Calvin Johnson claims he hid concussions during his nine-year NFL career. Photo by Tim Fuller-USA TODAY Sports
In response, the NFL and other sports leagues have adopted rules and procedures designed to remove concussed athletes from play and to keep them sidelined until doctors clear them to return. Glaud is grateful for those rules: they kept him from continuing with the Cowboys, and possibly making his condition worse.
He also thinks they should be stronger. Currently, the NFL requires players placed on injured reserve to remain there for the duration of the season. A
recent Harvard Medical School report commissioned
by the NFL Players Association suggested creating a separate seven-day disabled list for concussed players—something Major League Baseball already does, and something the report says would reduce the pressure on athletes to hide concussions or return too quickly from brain injuries:
A player's recovery time from a concussion can easily range from no games to several games. The uncertain recovery times create pressure on the player, club, and club doctor. Each roster spot is valuable and clubs constantly add and drop players to ensure they have the roster that gives them the greatest chance to win each game day. As a result of the uncertain recovery times for a concussion, clubs might debate whether they need to replace the player for that week or longer. The club doctor and player might also then feel pressure for the player to return to play as soon as possible. By exempting a concussed player from the 53 man roster, the club has the opportunity to sign a short term replacement player in the event the concussed player is unable to play. At the same time, the player and club doctor would have some of the return-to-play pressure removed.
Glaud concurs. He also believes that guaranteeing more money to players regardless of injury would help. Johnson made over $100 million during his nine-year career. The average player earns much less over a much shorter span. Glaud knows active players who have hid concussions. One friend, he says, told him,
I know I'm going to be fucked up when this is over.
"Calvin Johnson wanted to play because he had competitive spirit," Glaud says. "But if you're at the bottom of a roster or trying to make it, trying not to get cut, you're adding a whole financial aspect to it. A lot of us don't have nothing to go back home to."
Ed Wasielewski, Glaud's agent, says that guaranteed contracts would be a "game-changer" for the health and well-being of rank-and-file NFL players. "As an agent for 15 years, I can tell you that players tend to try to rush back from certain injuries, including concussions," he says. "If the NFL and NFLPA could come up with some kind of system with a salary floor for each player, that would make a lot of sense.
"The off-season runs from after the Super Bowl all the way to final [roster] cuts around Labor Day. Players are working with teams all the time. You can get a concussion in a simple tackling drill, or on a routine tackle or block. But because a player is incentivized to make the team in September—because that's the only way he makes his money—he's likely to hide concussion symptoms so he can continue to play and practice, feeling he has to tough it out because he can't make the 53-man roster from the training room."
The NFL and the NFLPA offer benefits to former players with brain injuries, but Glaud mostly doesn't qualify. For example, the league retirement plan provides disability payments to former players with at least three "credited" seasons of experience. Glaud only has two, because one of his seasons was spent on the Buccaneers' practice squad. Similarly, the league's 88 Plan and class action concussion lawsuit settlement pay out cash to retirees suffering from dementia and other severe neurological disorders. Glaud's post-concussion syndrome doesn't rise to that level.
The NBA, the NHL, and MLB generally offer lifetime health insurance to former players.
The NFL does not.
For now, worker's compensation covers the cost of Glaud's doctor's appointments. His wife's insurance pays for prescription medication. But the future is uncertain. What if Glaud never gets better? What if he can't go back to Rutgers and complete his degree in information technology, or work at a regular job?
One of Glaud's doctors recommended a brain injury specialist at New York University. When Glaud called to set up an appointment, he found out the specialist didn't accept worker's comp. Another doctor referred him to a clinic located in New Mexico. "That one would cost me $10,000 out of pocket," he says. "I'm leery to spend that much with no guarantee of it working."
Glaud has considered reaching out to Boston University and the University of North Carolina, where researchers are studying brain injury in football players, but hasn't yet picked up the phone. "I have a family and a child," he says. "I can't just get up and be gone for months."
"I pray a lot," Kassandra says. "He prays a lot. He's been to so many doctors. We're both willing to do things to make him better, but we are both losing hope. Ka'Lial says all the time, 'Is this what the rest of my life is going to be like?'"
---
G
laud earned about $350,000 in the NFL. He saved his money, and owns rental properties that generate income. Kingston is healthy. Kassandra has a good job. His family is supportive. He knows that things could be much worse.
"Imagine if you're on the practice squad for just one year, made almost nothing, now you're unable to get a job, you have a family, and your life is going to shit," Glaud says. "How are they going to afford gas to do to doctor's appointments every other day?"
Two years ago, Glaud was preparing for training camp; today he's more likely to spend time lying on his floor, waiting for a headache to calm down. Playing football gave him goals to accomplish, obstacles to overcome, a daily routine and a sense of purpose. Now Glaud often wonders,
Does the NFL really care about concussions, or guys like him?
When he was in Texas, he says, the Cowboys checked in with him every day, but afterward, "it has been me by myself dealing with this shit." The sport moves on. Glaud is trying to do the same. Only his head still hurts.
"Not that I need someone to hold my hand," he says. "But I didn't get hurt my damn self. It wasn't a car accident. I didn't fall out of a tree. I got hurt playing football. And I haven't been myself the whole damn time since."